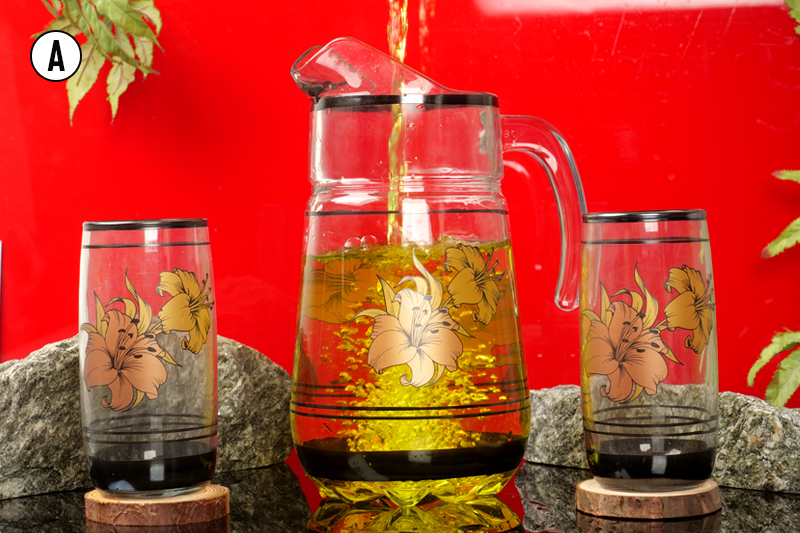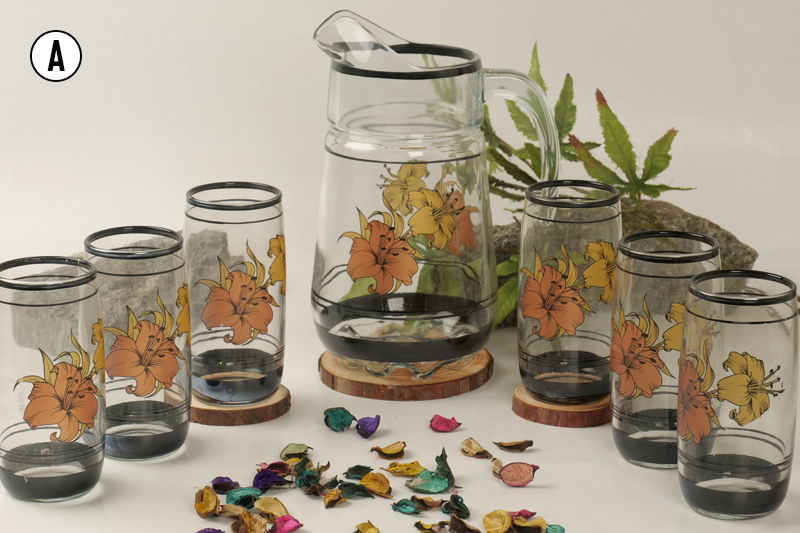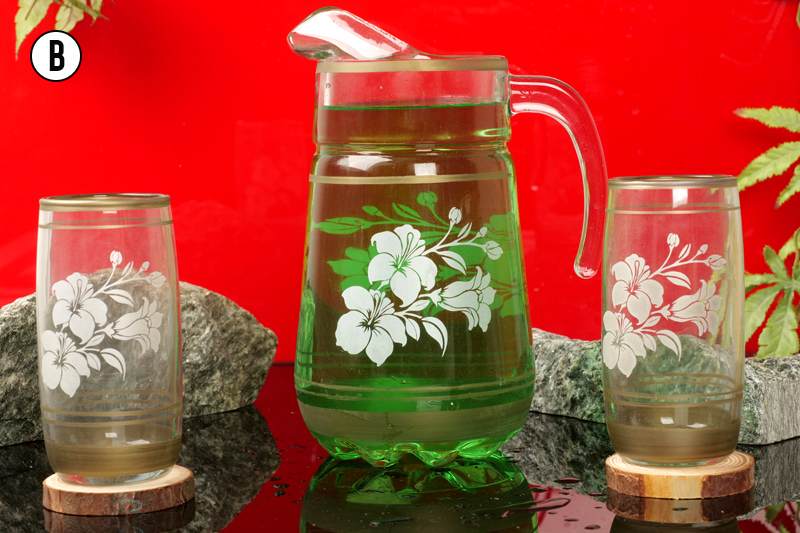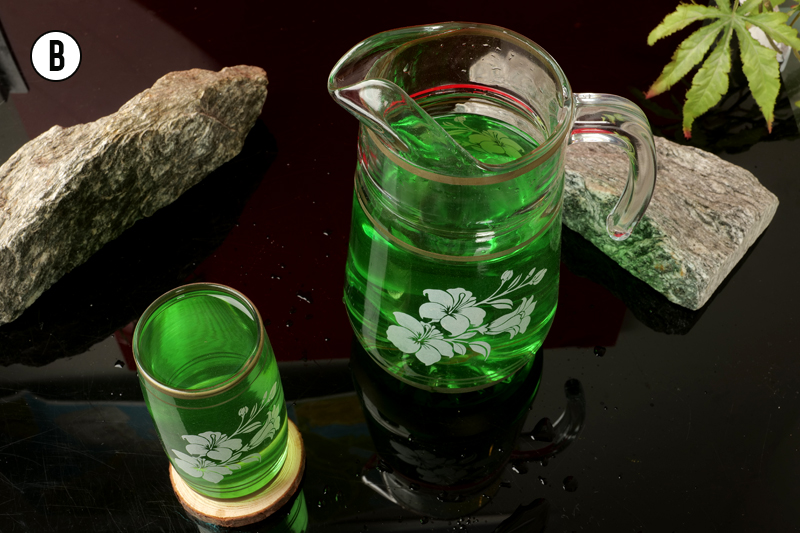 Water Set D1 7p Corporate (HKP-A284)
RS 2650 RS 3,000
Product description:
KITCHENWARE – JUG SET (07 Pieces)
(HKP-A284) Our glassware products are hand/ semi handmade which are designed and prepared by highly skilled professionals. Our all products are designed for elegant and smart look. At Hopestake, we put out all our efforts to design and develop luxurious and high quality melamine products. The designing process of glassware is purely handmade, so products have Imperfections, almost all work is done by two hands and with many repetitive motions. In this process, handmade products sometime have Imperfections, such as: -
Negligible deviation in appearance, shape.
The design of product may 'uneven'.
Tinny variation in grinding, buffing & coloring.
Above are not deficiencies/ flaws, instead show the genuineness of the handmade products.
Glassware Process & Cost Ratio Estimation
We are keen to provide quality products through finest way of processing of raw material. Our glassware products are being prepared & processed through quality manufacturing methodology. Our exquisite collection of glassware is designed to elevate your dining experience. crafted with precision and elegance, our glassware products are perfect for both everyday use and special occasions. From classic wine glasses to modern tumblers, we offer a wide range of glassware sets to suit your needs, our glassware adds a touch of sophistication to any beverage. Our glassware is made from high-quality, lead-free glass to ensure clarity and durability. You can trust that these glasses will stand the test of time, maintaining their pristine appearance through countless washes.
For general cost ratio estimation follow the table appended below:
Material utilization 50%.
Craftsman ship 30%.
Overheads & business sharing 20%.
Glassware items are processed by the local manufacturers and trading @ Pkr. 15000/100 piece to Pkr. 25000/ 100 piece approx. and above (depends upon type of item). Our jug set (07 Pieces) consumed 07 pieces of glass in manufacturing.
Jug Set (Glassware) Characteristics
We are using food grade best quality material in the manufacturing process of all glassware's. Our Quality Assurance (QA) team keep close eye and monitoring during fabrication process at factory level and at the packaging stage at warehouse too. Some of our jug set characteristics are:
Fragile item.
Improved anti-bacterial properties.
Finishing of premium quality.
Attractive appearance.
Low maintenance.
Non conducting properties.
Customized engraving/ coloring.
Environment friendly due to high recyclability.
Hope Caring Instructions
To preserve your glassware products, Hopestake suggests the following simple guidelines:
keep your glassware products in dry places.
A soft cloth dampened with warm water will often be enough for general cleaning.
Glass cleaner is good for getting rid of fingerprints.
Wipe in the direction of the grain to avoid leaving streaks.
Keep towel dry after cleaning to prevent water spotting.
Steel wool or brushes will scratch the surface of your glassware products and make it more susceptible to stinky and staining.
Don't leave dirty water and cleaning solution residues to dry on your glassware products, it will create a dull finish and could leave permanent stains.
Some tap water can be harsh and leave spots or stains. Use distilled or filtered water instead.
Our glassware products are considered 100% dishwasher safe.
Technical Specs
Dimension (07 pcs standard size)
06 x Glass
01 x Jug.
03 x Design
Bonuses & Rewards
Introducer Bonus 05% 130/-
Introducer Plus 2.5% 65/-
Token Money/ Biyana (Payback) 00
Hoperks Gift 04/-
Token money or leverage is valid for 6 months, if you don't use it to purchase of your own product or make sales from your referral, it will expire.
Wallets, Charges & Deductions
Network Wallet 650/- Block Wallet 1500/- Purchase Wallet 500/-
Delivery Charges 000/-
Services Charges 100/-
The detail of the remaining 9 commissions is available in the system.
Special Note - Color Variation
We try our best to ensure that all color samples shown on our website are as close as possible to the actual products. However, there may be some difference in the product shades/ color, because of colors seen by the customer vary from screen to screen due to the screen resolutions and/ or pixels.
---
Hope Values :
| | |
| --- | --- |
| Product SV | 2.5 |
| Product PV | 5 |
| Product CV | 1 |
| HopePerks | 5 |
| Service Charges | 100 |
| Other Charges | 0 |
Price Comparison :
Intarnational Market
Hope
5000
Other Brands
5000
Pakistan Market
Hope
2650
Other Brands
3000
Quality Comparison :
Price / Services
Hope
Fair Price
Other Brands
High
Guarantee
Hope
No
Other Brands
No
Likeability :
| | |
| --- | --- |
| Rate | ***** |
| Quality | 100% |
| Values | 100% |
| Rankings | 100% |
| Reward | 100% |
| Services | 100% |
Review Summary
Rating snapshot
---