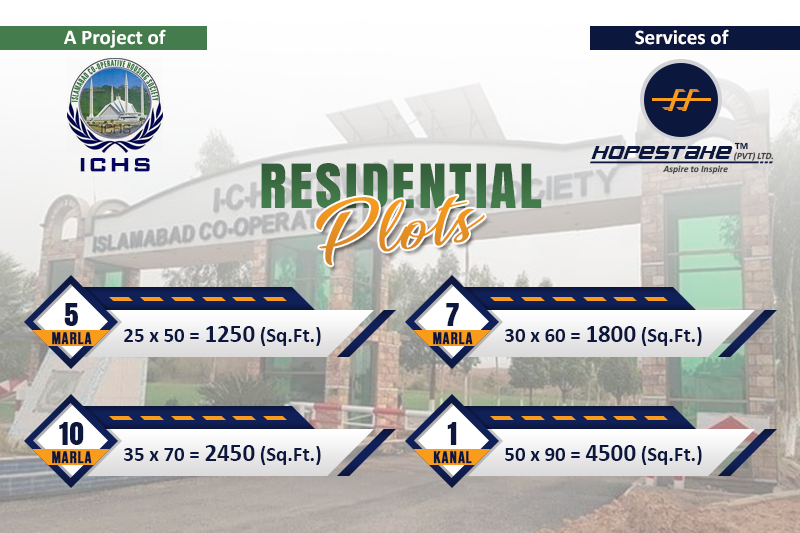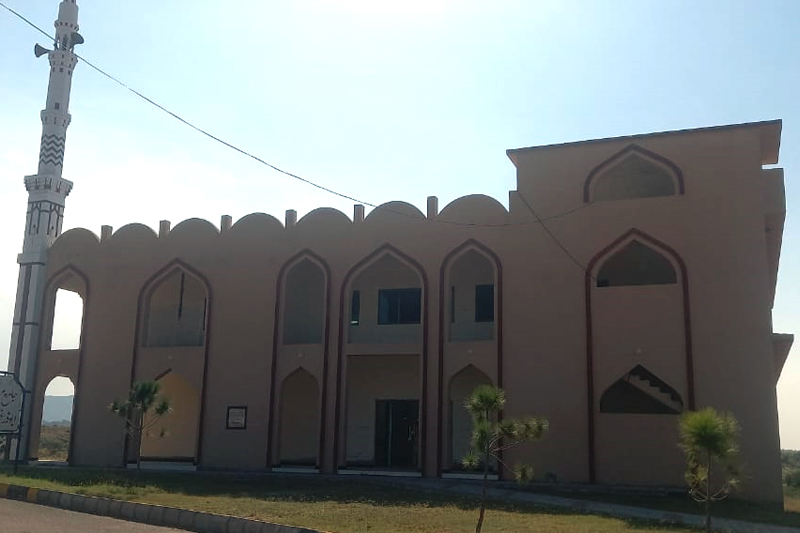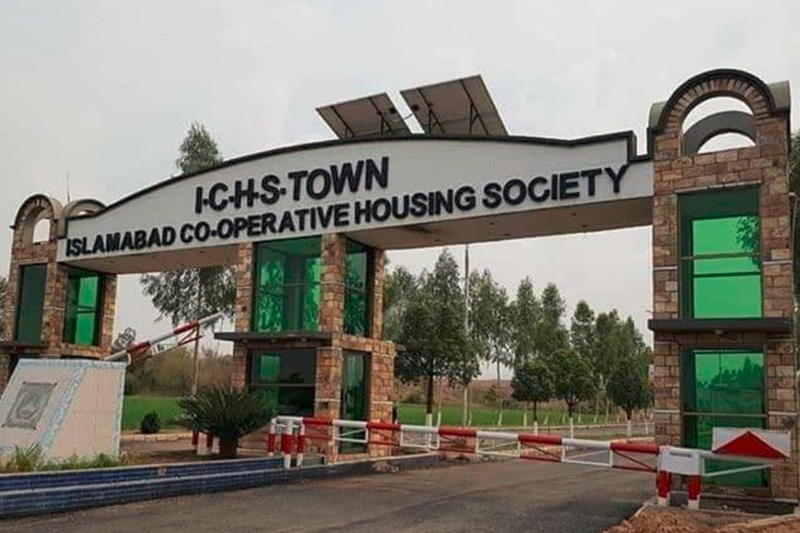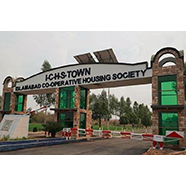 ICHS Fresh Series Booking 5Marla (HPP-951)
RS 360000 RS 456,000
Product description:
ICHS Booking 5Marla (HPP-951): These rates are for the fresh series plots only. There are number of high-profile housing societies launched in the capital city such as Eighteen Islamabad, Multi Gardens, Top City, Mumtaz City and Park view city to name a few, but none of these housing societies cater to the needs of individuals who have a limited budget or have a low income. In order to solve this crises ICHS took the initiative and provided extremely affordable residences for the less privileged members of the community.It is a semi-government housing project launched to provide quality and comfortable living for low and moderate-income households. Located close by Islamabad, the housing project presents exquisite views of glorious Margalla Hills.
Official Launch:
ICHS Town goes way back with the launch around 2001.
Approval of layout plans for the society is per specified rules and regulations of the Capital Development Authority (CDA).
ICHS Town Location:
The housing project lies near Fateh Jang Road which is approximately about 42 km from zero point Islamabad and only 4 km from New Islamabad International Airport. It is one of the societies which has close access to new Islamabad airport. Society has an advantage with its location as it is situated close to CPEC route only at a distance of 3 km and will be at almost 0 km from the proposed Ring Road.
ICHS Town nearby landmarks & places are:
New Islamabad International Airport
Islamabad
Rawalpindi
Chakri
Fateh Jang
M-1 Motorway
M-2 Motorway
CPEC
CPEC Model Railway Station Bangoo
Nova City
Green City
Top & Mumtaz City
Capital Smart City
Total Area & Master Plan:
The ICHS Town was started at almost 1,000 Kanals, now it has spread over approx. 9,000 Kanals and total land area is expected to be almost 15,000 Kanals.
Master plan of this society has been designed by the Zoom developers. All the primary and luxurious amenities are made part of the project with affordability. The developers have placed special efforts to keep the balance between luxury and cost-effectiveness.
ICHS Town Features, Facilities and Amenities:
ICHS does not claim to be very fancy but it covers all the basic facilities which are a necessity for comfortable living. ICHS Town offers the following basic amenities to its residents:
Underground Electricity
Own Dedicated station
Water
Gas
State of Art Sewerage System
162 ft. wide main boulevard
Paved streets
Street lights
Jogging tracks
Mini Golf club
Community club
Gated community
Wide network of roads
Mosques, Hospitals & Schools
Parks and Shopping centers
Access Points:
ICHS Town is a project that is highly accessible from many points. A few of the access points are mentioned below:
Approximately 42 minutes away from Islamabad zero point
Approximately 15 minutes away from M-1 Motorway, Fateh Jang Toll Plaza
Approximately 13 minutes away from M-2 Motorway, Thhallian Toll Plaza
Approximately 30 minutes away from Saddar, Rawalpindi
Approximately 25 minutes away from Tarnol, N-5 National Highway, GT Road
Approximately 20 minutes away from Fateh Jang.
ICHS Town NOC and Permission:
The project is approved from Town Municipal Administration (Pakistan) and is a reliable and absolutely safe to invest in.
The society is registered with the ICT administration cooperative societies department. Following NOCs have been obtained by ICHS from concerned departments:
Cooperative Societies:
Registration No. 313, Co-operative Societies Department, ICT, Islamabad.
Ministry of Defence:
NOC No.6/53/Misc/D-28/2008 from Ministry of Defence, Government of Pakistan.
Civil Aviation Authority (CAA):
NOC No. HQCAA/1124/44/ATS(P/C) 2693 for Construction from Civil Aviation Authority, Headquarters, Karachi.
Environmental Protection Department:
NOC No. DD(EIA)EPA/F-80(IEE)/0307/2009/2892 from Environmental Protection Department, Government of Punjab.
Tehsil Municipal Administration (TMA):
NOC No. 567/SL/N-I/TP/TMAF from Tehsil Municipal Administration (TMA), Fateh Jang.
ICHS Town Development:
The development in phase 1 has almost been completed, sewerage lines, roads networks and electricity lines have been installed. Connections of water, gas, underground electricity, and telephone lines are installed in the community. The work on carpeted roads is completed that connect all parts of the society along with state of the art 160 ft. wide Main Boulevard.
The solar lights have been installed on the Main Boulevard to make the housing society more eco-friendly and convenient.
However the development work in Phase-1 is in progress and can be witnessed during site visits.
WHY SHOULD YOU INVEST IN ICHS TOWN?
The latest trend of settling into housing societies in Pakistan has become essential and appealing due to the different and luxurious facilities offered by the management of these housing societies. ICHS Town provides equal opportunities for individuals belonging from all norms of society to be able to afford an upgraded life. Few of those are appended below:
Supreme Location:
The Location is only one factor that decides the worth of any property, the one of a kind location at crossroads to 3 major cities, Islamabad, Rawalpindi, and Fateh Jang is one of the key selling points of this housing society. The society also presents with beautiful sceneries of Margalla hills of the capital city.
Furthermore, it's only at a few minutes from the CPEC route, motorway, and the new International Islamabad airport. Combination of all these factors adds to the value of not just this project but also the areas surrounding it.
Affordable Rates:
The affordable prices offered by this housing venture contribute significantly to increased activity. The investors who recognized the true potential of this project invested in society early-on are enjoying the profit and increased value of their property.
Bright Future Prospects - CPEC Route:
There is no doubt that there are infinite possibilities and prospects for this housing project due to its proximity to CPEC Route. Investing in this project is always a good idea even if you don't intend on using it for residential purpose, the commercial prospects of this housing venture are extraordinary. The area will be established into a large business hub in years to come.
Improved Quality of Life:
The housing society presents with a promising opportunity to experience a comfortable and peaceful life for its residents. Not only it is blessed with natural beauty and equipped with modern amenities but is also situated away from the noise and pollution of the main cities. The housing venture is a once in a lifetime opportunity to improve your quality of life on a budget.
Conclusion:
Even though the investment in ICHS town will have to be long termed but the experts have analyzed that the margin for returns will be high depending on the investment made. It is a great opportunity not only for the investors but also the people for low incomes to invest their savings for a permanent house and their future.
Rates & Schudule:
Rate:

775000/-

679000/-
Booking amount:

456,000/-

360000/-
Exempt amount: 000/-
Discount: 96,000/-
First Paid Slip:Not Mention
Remaining amount: 319,000/-
Installment: 31,950/3M-
On Possession: 000/-
Transfer Charges: 8,000/- (Block Wallet)
Membership Fee: 2000/- (Block Wallet)
Final price: 689,000/-
File Delivery Time: (35-45 Business Day)
Bonuses & Rewards:
Introducer Bonus 7.5%; 35,100/-
Introducer Plus 1.9%; 11000/-
Token Money/Biyana (Payback); 000/- (Token money or leverage is valid for 6 months, if you don't use it to purchase of your own product or make sales from your referral, it will expire).
Hoperks Gift; 09/-
The detail of the remaining 8 commisions are availble in the system.
Wallets used: Network Wallet; 70000/- Block Wallet; 282,000/- Purchase Wallet; 8000/-
Charges & Deductions: Service Charges; 000/- (Block Wallet)
Disclaimer: Please note that this description is entirely for informational purposes and all the content has been shared with you from various online sources. So, kindly do thorough research on your part, before investing in any project. In case of any loss or mishap concerning to the any project, Hopestake (Pvt) Ltd will not be responsible.
If you want to know more about such housing societies, please read about other societies at our website www.hopestake.com
---
Hope Values :
| | |
| --- | --- |
| Product SV | 82 |
| Product PV | 12 |
| Product CV | 350 |
| HopePerks | 5 |
| Service Charges | 10000 |
| Other Charges | 0 |
Price Comparison :
Intarnational Market
Hope
000
Other Brands
000
Pakistan Market
Hope
360000
Other Brands
456000
Quality Comparison :
Price / Services
Hope
Fair Price
Other Brands
High
Guarantee
Hope
No
Other Brands
No
Likeability :
| | |
| --- | --- |
| Rate | ***** |
| Quality | 100% |
| Values | 100% |
| Rankings | 100% |
| Reward | 100% |
| Services | 100% |
Review Summary
Rating snapshot
---